Panel Machines
Automatic Test Panel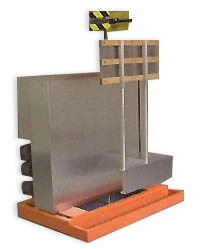 Automatic Test Panel Spray Machine models are available from highly sophisticated custom units to a variety of standard models with various speed ranges and panel spray areas.
With all models, the operator can select all spray parameters including gun traverse speeds, panel indexing distance, spray on distance, and all other variables. Once the program is complete you may start the spraying sequence or assign a program number and place the information in the on-board computer memory for future recall.
The 310940 Series Machines are new in design and function from the ground up. The index mechanism is relocated to the left and near the front of the unit, away from the paint overspray area. Periodic maintenance and lubrication of the index mechanical components are reduced significantly. The new frame design allows easier access to place and remove panels.
More info
Standard power requirements are 120 VAC, 50-60 hertz, single phase. 

A two line, 24 character per line LCD display, a single data input knob and a few push buttons are the operator interface. The machine is controlled by functions and data from various menu selections. Many new functions have been added.
Features