High Pressure Equipment
Stainless Steel Balanced Ratio High Pressure Pumps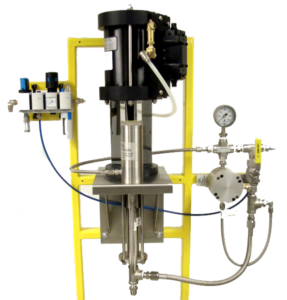 This is the standard connector for Spraymation™ Electromatic™ Applicator Guns.
These Pumps have all wetted parts made of stainless steel and are designed for continuous-duty at pressures up to 2500PSI.
Overview
Standard stainless steel, air operated, pumping systems are designed for use with Electromatic™ XV and XXV Automatic Airless Spray Extrusion Applicator Heads for applying cold adhesives and other similar fluids for applications in packaging, disposable manufacture, paper converting, assembly operations, and other applications where automatic or semi-automatic control of dispensing of such material is required.
Two basic types of pumping systems can be supplied and each type is available in one of two pumping ratios ("Inlet air pressure to fluid outlet pressure" ratio) including 50:1 (388500 Series), and 28:1 (388800 Series).
More info