Applicators
Mid Size Applicators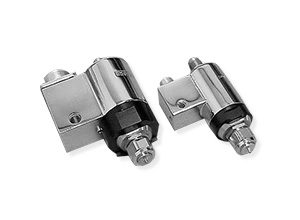 Electromatic™ XVI
Mid size Applicator
The Electromatic XVI, 99200 Series Applicator Head, for cold fluids, is a smaller version design of the original Electromatic 79200 Series applicator.  It offers many advantages at a lower cost and provides a lighter unit for moving applications, with performance similar to the full size Electromatic XV Applicator.  It uses a standard spring, plunger, seat adapter, seat, and locknut.  The fluid tube, coil, coil housing and body are new.  The fluid inlet is ½-20 JIC and all standard tips and Spraymation fluid hoses, may be used.
Overview
The applicator coil is 24 VDC only, requiring 1.4 amps for operation.

 

The coil power requirement will allow two applicators to be operated on one 24 VDC gun driver, included in a Spraymation DC Power Supply or Pattern Controller, reducing system costs.

The applicator coil strength is approximately 70% of the Electromatic XV, and the size is 70% of the original applicator, weighing only 15 ounces.

The Electromatic XVI applicator requires about 1 ms extra of ON Time to open and it remains open for about 2 ms longer than the full size Electromatic XV Applicator.

 

The turn off time lengthens with higher viscosities more rapidly that the standard applicator.

 

It has a maximum operating pressure of 2000 PSI.
More info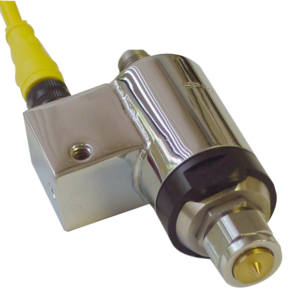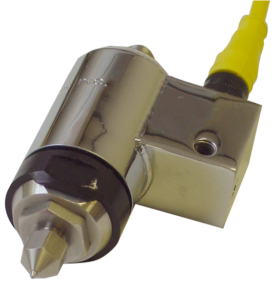 The Electromatic™ XVI is suitable for moderate speed applications, with low to medium viscosities (6000 cps), and operating pressures under 2000 PSI.
More info
The applicator head is suitable for use on linear tail tie applications and where space restrictions are important.

 

The weight savings over the full size applicator and the improved performance are the key features.
This applicator is also suitable for lower cost systems with fluid pressures less than 100 PSI.

 

These systems could use plastic tube and fittings to further reduce cost.
The electrical connector uses a standard miniature industrial connector.

 

Molded Gun Cord Cables are available with the mating connector.

 

The Gun Cord Cable is shielded and CE compliant, available in various lengths, in right angle versions, and all are water resistant.