Applicators
Multiple Outlet Applicators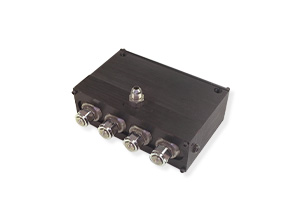 ELECTROMATIC™ XX & XXV
Multiple Outlet Applicators
The Electromatic™ XX automatic applicator head series is used for applications requiring multiple parallel lines or dots of hot melt or similar thermoplastic materials, where accurate placement and amount of material is important.
The Electromatic™ XXV automatic applicator head series is used in the application of cold materials.
The proven design principles of the patented Electromatic™ head have been applied to multiple outlet applicators to bring to the operation the advantages that Electromatic™ users have enjoyed for over thirty years.
Typical use
The Electromatic™ XX is intended for use with hot melt adhesives, waxes, sealants, solders, and other thermoplastic materials, or generally any material whose application is enhanced by the controlled application of heat. Its ability to apply multiple lines or small accurate dots in repeatable patterns makes it ideal for use in applications where space or cost render the use of multiple guns impractical, and where precise control is required.
The ELECTROMATIC XXV is intended for use with cold fluids with similar operating requirements.
General design
Low maintenance