High Pressure Equipment
Stainless Steel Balanced Ratio High Pressure Pumps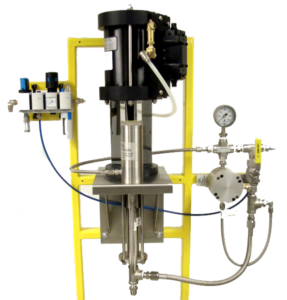 This is the standard connector for Spraymation™ Electromatic™ Applicator Guns.
These Pumps have all wetted parts made of stainless steel and are designed for continuous-duty at pressures up to 2500PSI.
Overview
Standard stainless steel, air operated, pumping systems are designed for use with Electromatic™ XV and XXV Automatic Airless Spray Extrusion Applicator Heads for applying cold adhesives and other similar fluids for applications in packaging, disposable manufacture, paper converting, assembly operations, and other applications where automatic or semi-automatic control of dispensing of such material is required.
Two basic types of pumping systems can be supplied and each type is available in one of two pumping ratios ("Inlet air pressure to fluid outlet pressure" ratio) including 50:1 (388500 Series), and 28:1 (388800 Series).
More info
All pumping systems include high pressure output filter, inlet suction filter, all necessary air regulator equipment, and all wetted parts of stainless steel construction. 55 gallon and 5 gallon models include stainless steel drum/pail cover, while wall mounted version includes mounting bracket, siphon hose, and siphon tube for use in user's container. Maximum fluid pressure is 2500 PSI for 50:1 models and 1000 PSI for 28:1 models.
All complete pump systems include a compressed air  lockable valve with exhaust, regulator and oiler.  They also have an automatic fluid pressure dump valve which discharges output fluid pressure when air pressure is removed from the pump for zero energy requirements.
Typical maximum delivery of pump (dependent on material used) is 1.0 gallons per minute for 50:1 ratio, and 2.0 gallons per minute for 28:1 ratio. In most cases, 10-80 PSI plant compressed air is required for operation of pump. Various modifications can be supplied to meet a user's individual requirements including fluid hoses, stroke counters, etc.
We rebuild and test pumps to insure they operate like new.
We can upgrade older pumps with modern improvements and we have parts kits for those who want to rebuild their own pumps.
New options are available for high viscosity fluids.  These include a larger suction hose and a new filter with larger fluid ports