Low pressure
Low Pressure Equipment Tanks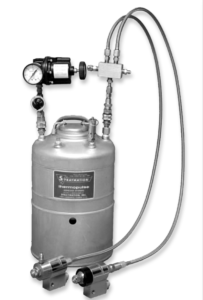 Spraymation ASME approved tanks, for use with unheated fluids, with capacities of 2, 5, and 10 gallons are now available with optional low level controls, and adjustable speed agitators, suitable for use with Electromatic™ XV, XXV, XXIV, and XXXV Applicator Heads and Spraymation DC Pattern Controllers.
Overview
Standard material used for the cover gasket and quick disconnect fittings is Ethylene Propylene (EPDM). It is compatible with most fluids likely to be used in these tanks. It is not recommended for use with petroleum oils, or hydrocarbon solvent lubricants.

Optional material is a Fluorocarbon elastomer, recommended for materials not compatible with EPDM. Fluorocarbon elastomers are usually not compatible with most fragrance compounds. Other exotic gasket and seal materials are also available for engineered solutions.
More info
The tank model and/or quick disconnect fitting number selected determines the gasket material being used.
Agitated tanks are recommended only when applying fluids that have solids that should be kept in 

suspension,

 or that must remain as a homogeneous mixture.
Agitation is provided by a removable, adjustable speed air motor assembly rotating a stainless steel shaft and propeller. This ensures that the optimum stirring conditions can be easily obtained.
An optional built in low level float switch may be connected to your equipment for alarm or monitoring purposes.
Many models of these pressure tanks are CE marked.
Diagram