Low pressure
Low Pressure Tank on a Dolly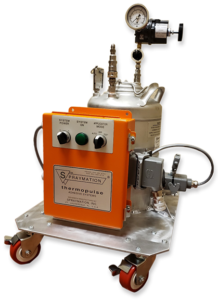 An ASME stainless steel pressure tank filled with liquid can be heavy.
An ASME stainless steel pressure tank filled with liquid may only be needed for some production processes.  This makes it simple to move this equipment out of the way when not in use.
These dollys have five casters that lock so the pressure tank can easily be moved around on the production floor.  A collar is provided to prevent the pressure tank from tipping over or sliding off the dolly.
More info
This particular dolly also has a control box with a gun driver for a Spraymation Electromatic Applicator. 
The box has an AUTO/OFF/TEST switch for the applicator. 
It has a heavy-duty industrial connector so the dolly can be rolled up to a usage point, plugged into a waiting control port, have compressed air connected and the applicator put in place and ready to use in minutes.
This pressure tank includes a low-level sensing switch(cable coming out of the pressure tank base).  This signal goes through the main connector to the user's other equipment.
These are very easy to customize to a customer's exact needs and tank size.