Input by passive contacts, DC voltage, photocell or open collectors.
Output in real time with 0.1 milliseconds resolution.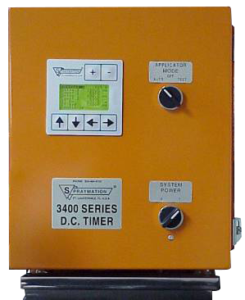 Totally Independent operation of up to four applicators.
Overview
Output in linear distance with 0.01 inch or 0.1 mm resolution.
Outputs can be Stitched to conserve adhesive.
Each output can be configured differently.
One touch entry to immediately select 26 sets of memorized programs.
Fine tuning adjustments are easily made in real time.
Run Up Control to provide a constant amount of adhesive at any speed.
3400 Series DC Timers
(Pattern Controllers)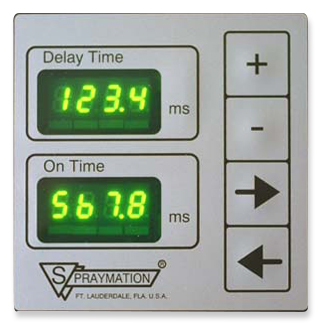 This timer is the first component in the 3400 series DC Timer (Pattern Controller).  They feature keypad programming and numeric display of all settings. 
More info
It is a basic delay on timer that can be configured to have a 0-999.9 ms range or 9999 ms range.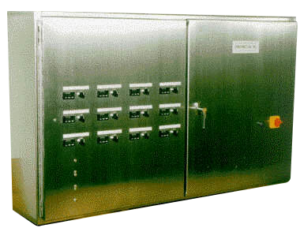 Special Controls are regularly made. This unit has a Stainless Steel enclosure and utilizes standard DIN temperature controllers.
More info
The modular elements of Spraymation's timing allow for custom designs for specific applications. Control units can be constructed to comply with specific user electrical and safety standards;
The delays in having controls CE marked have caused some customers to order equipment that is built from compliant parts, designed and wired to be compliant. Then they incorporate the Spraymation components in to their system and CE declaration of compliance.
CE compliance is one of our specialties and we actively seek compliant solutions.