Applicators
Air Atomizing Spray Applicators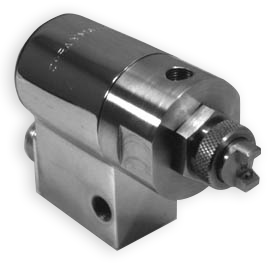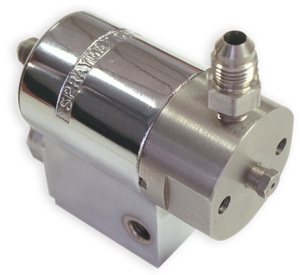 ELECTROMATIC™ XXIV
Air Atomized Automatic Spray Applicator
The Electromatic™ XXIV Air Atomized Automatic Spray Applicator applies precise amounts of low viscosity fluids at room temperature. It provides various pattern widths, flow rates, and pattern characteristics, with positive repetition, at high rate of speed.
The external air atomizing concept produces a spray pattern, ranging from a fine mist, to a heavy wet coat, by mixing air and fluid as it leaves the spray head.
More info
Shape of the pattern can vary from a dot of approximately ¼ inch diameter, to a fan 12 inches wide, dependent upon fluid characteristics, tip and air cap design, pressures, and applicator distance from the substrate.
Low air pressure minimizes over spray, and allows coatings to be applied to fragile webs. High pressure can drive the fluid into cavities, or apply large amounts at a distance from the substrate.
Materials
Silicones, marking inks, fugitive inks, lubricants, cold adhesives, sugar washes, surfactants, and coatings.
Applications
Typical applications include, applying silicone to hypodermic syringes, lubricating precision bearings, applying oils and food products to bakery goods, marking textile and non woven products, can coatings, carton sealing, temperature sensitive inks, photo resists and conformal coatings, perfume to diapers and sanitary products, tail tie of ribbon goods, paper bonding, and generally, anywhere where a precise amount of fluid is to be applied regularly at a high rate of speed.
Total system
A total system will usually include a pressure tank, hoses, and timing equipment, for single or multiple applicator installations. 
The Electromatic™ XXIV can replace present heads which do not provide, positive high speed operation low maintenance, and stainless steel construction.  
Gun conversion kits are available to improve present installations using similar equipment, improve your efficiency and lower cost.