Panel Machines
S3 Reciprocator System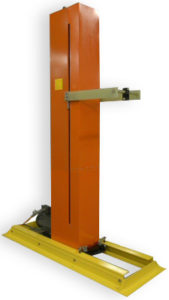 The 360176 S3 Reciprocator is a electronically reversible electronically programmable reciprocator that will provide precise repeatable motion and painting.
A simple operator Interface offers immediate push button control of speed, stroke length, and position.
The 360176 Reciprocator is a member of the S3 generation of reciprocators from Spraymation. It is a design that continues the heavy-duty tradition of Spraymation painting machines.
Features
The reciprocator's vertical column is only 10½ inches (267 mm) wide.  
The base is 13 inches (330 mm) wide.
The stroke can be designed for strokes up to 15 feet (4.5 m) using modular design.
The carriage travels on a square track using ball-bearing wheels.
The carriage is driven by heavy-duty chain.
An adjustable counterweight is used on a separate track to balance the spray applicators.
Designed for payloads of 20 Lb (9Kg) or 40 Lb (18Kg).
The drive system only needs to overcome inertia and friction losses for constant speed.
The chain is driven by a gearbox.
The gearbox is powered by a variable speed 3-phase motor.
The full vector drive allows the motor to accelerate, decelerate, and reverse like a servo
Electrically reversing gives maximum stroke control and programmable dwell times.
The vector drive also maintains speed in the active painting area of better than 1%.
The motor and design are for a Class I, Division I, Class C or D hazardous environment.
All feedback and control is digital and uses simple calibration techniques.
Digital sensors are intrinsically safe.