Is it time to bring your Spraymation panel machine back to like-new condition, or are some new options needed?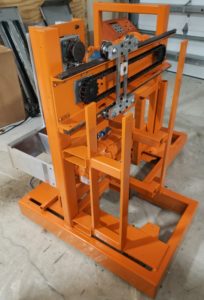 This is a photo of a 10 year-old machine that is being rebuilt and having features added.
It has been disassembled, cleaned and repainted.
All parts exceeding their useful life are being replaced with new parts.
This machine is also getting new features including:
a large color display
2 precision metering paint pumps
full-size bell atomizer.
The benefits of sending us your panel machine for refurbishment and/or upgrades include:
prevent unplanned downtime
meeting new customer testing requirements
automating tasks that paint lab technicians currently perform manually; this improves workflow and also reduces errors
Please call or email us to discuss the health of your older machine and the possibility of upgrades you may need.