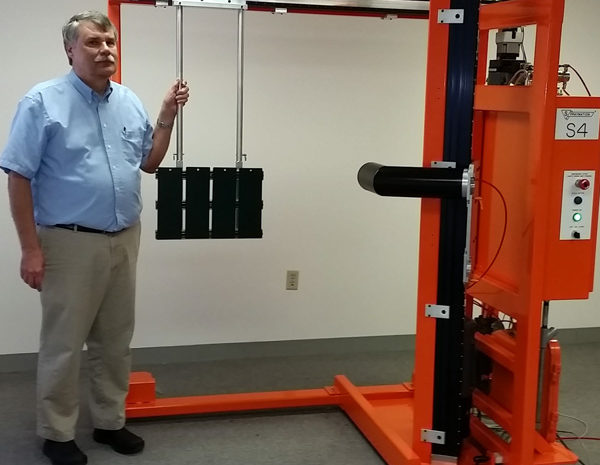 New Test Panel Spray Machine for Electrostatic Bells
Spraymation™ has been providing Automatic Test Panel Spray Machines to the coating industry for over 40 years, making continuous improvements to meet the changing requirements of our customers. The NEW S4 series (model 311440), is derived from the proven mechanical and control features of hundreds of machines that have demonstrated their reliability and value over long service histories. This new series overcomes the problems encountered when using large bell atomizers for preparation of Test Panels. It uses the same operator functions and menu style programming as our present machines and allows the most modern coating processes and painting equipment to be used in the laboratory.
The smallest standard sized machine will fit into a typical six-foot wide spray booth, and has a target area of 18 inches high, by 24 inches wide, when using a 12-inch diameter bell spray pattern. Suitable for easy interchange of all types of bell atomizers, and conventional air or airless spray equipment. Present designs accept 2 standard electrostatic bells, with quick change mounting. A major difference from many previous designs is that the atomizer is carried on a sturdy carriage, indexed vertically during the spray operation.  The relative relationship between spray gun and panel remains unchanged from that standardized by the industry for many years. Major mechanical changes permit the technician to have easy access for loading and unloading panels or checking atomizers. Easily programmed by the user to meet common or special coating sequences for precise application of a coating to test panels. The controls allow setting: panel traverse speed, spray start/stop position, index distance, dwell times between strokes, strokes per coat, flash times between coats, spray characteristics, bell characteristics, number of coasts, bell data and air data. Data will be stored as scripts that can be recalled or moved to a different machine. A personal computer can be used to enter or change scripts in addition to being able to access them at the machine. This series of machines are cost comparable to traditional machines and comes with a 2-year warranty.