Applicators
Airless Spray Applicator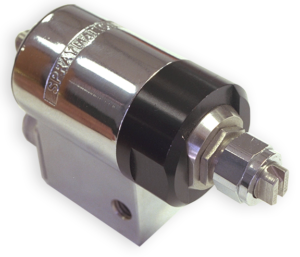 Electromatic™ XV
Airless Spray Applicator
The Electromatic™ XV Automatic Airless Applicator Head is suitable to spray cold adhesives, marking fluids, perfumes, silicones, and similar materials, requiring small repetitive amounts to be accurately applied at high rates of speed.
It utilizes spray nozzles to provide a variety of spray patterns, etc. Because the Electromatic™ XV is an airless head, spray applications, except involving water-like materials, will usually require a high pressure pumping system. Spray applications can utilize either a pressure tank or pumping system depending upon material used, viscosity, etc.
More info
The ELECTROMATIC XV head incorporates a modular concept, which allows the user to remove the entire fluid section, which contains the gun's one moving part, as a unit. Which results in easier maintenance and less down time. Various models are available with difference being in seat orifice size and operating voltage of coil.
Electromatic™ guns are available with extensions to reach more confined areas. Such guns are often used coating the inside of beverage cans.

Electromatic™ XV Applicator Heads (3) supplied with common manifold, shut-off valves, and electrical gun cords. Available with specified center distances, fixed or adjustable, with 30 or more for wide web applications.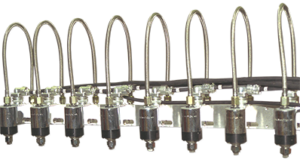 Electromatic™ XV Applicator Heads (8) on mounting bar with adjustable centers and fluid hoses connected to common manifold.