Applicators
Handgun applicator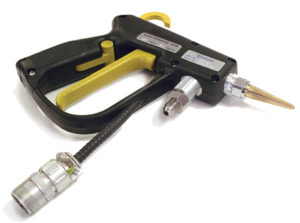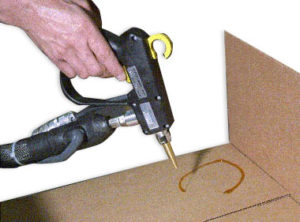 ELECTROMATIC™ XXXI
Extrusion Handgun
Handgun applicator heads are designed for extrusion of hot melt adhesives, waxes, sealants, and other similar thermoplastic materials.  Typical applications include packaging, hand case sealing, wood work, palletizing, and product assembly.
It is suitable for use with any of Spraymation's standard Thermopulse™ adhesive application systems, or it can be used as a replacement hand applicator with many other systems where the handgun being used should be replaced.
The exterior of the handgun is of sturdy, molded design to enclose the high temperature parts with minimum transfer of heat to the operator's hand.   It has an easy pull trigger fitted with a lock to prevent inadvertent operation when laid down. Rugged built-in cartridge heaters and an RTD sensor maintain accurate temperatures and permit easy temperature adjustment in seconds.  It is lightweight and may be purchased with a variety of tips and nozzles for various types of work.
More info
A minimum of seals and mechanical components ensures long life operation. Where maintenance may eventually be needed, all parts are easily removed and replaced in minutes.

The hose inlet swivels for easy handling.  The ELECTROMATIC XXXI can be used with Spraymation's electrically heated hoses or hoses of other manufacturers.

Electrical connections are easily made through a plug-in connector, covering sensor, heaters, and grounding.
Total system
The Electromatic™ XXXI handgun can be used with any standard Spraymation system. 
All standard systems are for use with Model 301917 handgun, 240 volt operation. Also available is Model 301940 handgun for use with 120 volts.

It should be noted that although units can be supplied with more than one handgun, consideration should be given to such usage to ensure that operators will not interfere with each others' work and possibly cause potential safety hazards.

Unless otherwise specified, handguns are supplied with 76054-020 tip. Other suitable tips may be selected from Spraymation's literature SL363.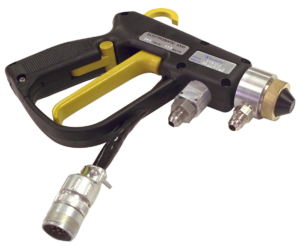 ELECTROMATIC™ XII
Air Dispersed Handgun
The Air Dispersed Spray process involves a column of spiraling air, supplied through an air mixing cap, which surrounds the hot melt fluid as it exits the fluid tip resulting in material deposited in a circular cone pattern.  The fluid tip and air cap used on these applicators provide closely controlled patterns, which can range from a narrow stripe to a wide band depending on the adhesive used.