Applicators
Multiple Outlet Applicators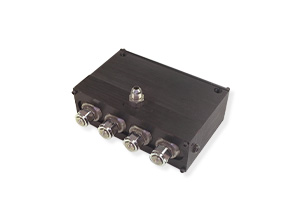 ELECTROMATIC™ XX & XXV
Multiple Outlet Applicators
The Electromatic™ XX automatic applicator head series is used for applications requiring multiple parallel lines or dots of hot melt or similar thermoplastic materials, where accurate placement and amount of material is important.
The Electromatic™ XXV automatic applicator head series is used in the application of cold materials.
The proven design principles of the patented Electromatic™ head have been applied to multiple outlet applicators to bring to the operation the advantages that Electromatic™ users have enjoyed for over thirty years.
Typical use
The Electromatic™ XX is intended for use with hot melt adhesives, waxes, sealants, solders, and other thermoplastic materials, or generally any material whose application is enhanced by the controlled application of heat. Its ability to apply multiple lines or small accurate dots in repeatable patterns makes it ideal for use in applications where space or cost render the use of multiple guns impractical, and where precise control is required.
The ELECTROMATIC XXV is intended for use with cold fluids with similar operating requirements.
General design
Fluid is dispensed when any of the built-in solenoid coils are energized by an electrical signal, moving the needle assembly away from the valve seat.

The plunger has no seals or packings to inhibit its movement, and thus responds uniformly, providing accurate repeatability for every actuation. This ensures that the amounts dispensed will always be alike for the same time setting.

Material may be delivered in almost microscopic sized dots, thin lines, heavy beads, or generally in almost any pattern desired.

Precision machining eliminates the need for needle adjustment with all outputs dispensing equal amounts.
Low maintenance
The exterior housing is of plated steel, able to withstand the abuse that may be experienced in some extreme installations. There are no moving seals or 

packings

to cause leaks, binding, or require adjustment and replacement. (Seals are usually the major source of problems with most ordinary applicators.)
There are fewer parts than most applicator heads…and only one moving part.